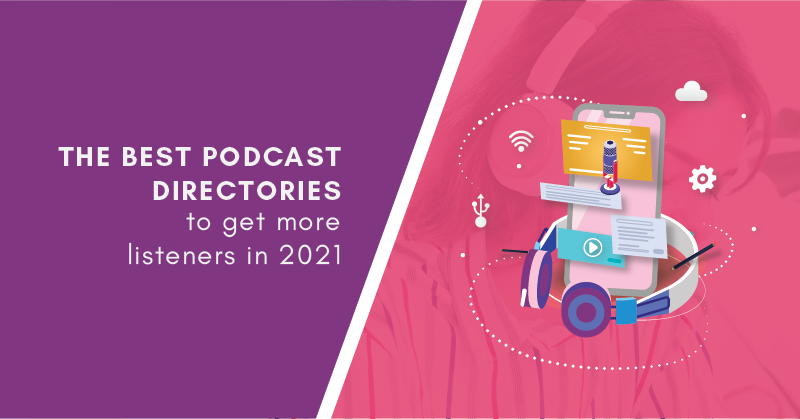 Once you've uploaded the first episode of your podcast, it's a good idea to submit your episode to podcast directories so that your show can be discovered by listeners worldwide.
What is a podcast directory?
A podcast directory is a centralised platform that helps people find and consume podcast episodes.
Each directory is like a library, and they typically categorise podcasts alphabetically or by genre to help listeners find shows that they like or may want to listen to.
It is not a host or distributor of content.
Listeners can visit the directory and click on your show/episode links, but the content remains in your podcast hosting platform – you don't upload your episode file to a directory.
You link your episodes to the directories via an RSS feed that updates every time you have a new episode. This feed "tells" the directory where to find your updates.
A directory typically will not distribute your content to other directories. It's up to you to list your podcast in each app, although there are some directories that pull data from the major directories.
Which directories should you list your podcast on?
Many first-time podcasters often ask if there's a downside to listing their episodes on a lot of directories. The answer is, no.
You want people to discover your show so you need your podcast to show up on any directory that your potential listener may prefer to use.
Listing your podcast in various directories may take quite a bit of time to set up, but think of it as a great investment and marketing tool, because you will be making it easier for listeners to discover your show. Once your podcast is approved in a directory, each episode will automatically show up via the RSS feed from your host, so the job only needs to be done once.
Podcast directory list
There are a lot of podcast directories these days, but these are the major directories that we suggest setting up. The first nine on the list are the most popular podcast directories where the majority of podcast listeners consume content so be sure to list your show with each of these. Remember, though, that the other directories are just as important.
1. Apple Podcasts (formerly part of iTunes)
In 2005, Apple announced that it would be streaming podcasts through iTunes. In 2019, iTunes was divided into Apple Music, Apple TV, Apple Books, and Apple Podcasts.
The majority of listeners use Apple Podcasts so it is considered the largest and one of the most important podcast directories right now. Some say that if you're not listed on Apple Podcasts, then you're not podcasting at all.
Besides its reach, Apple Podcasts has two advantages.
One, it allows users to leave reviews. This helps your show rank better and lets you know what listeners think of your show so you can continue to improve it.
Two, these apps and directories pull data from Apple so your show will appear in their lists as well:
To submit your podcast to Apple Podcasts, you will need to log in to iTunes Connect using your Apple ID. If you don't have an Apple ID, you will need to create one prior to submitting your podcast.

CLICK HERE TO SUBMIT TO APPLE PODCASTS
2. Google Podcasts
Like Apple, Google has recognized the popularity of podcasts so it's phasing out Google Play Music to make way for Google Podcasts which was launched in 2019. With plenty of listeners using Android-powered devices, this is a great tool to target non-Apple users.
What makes this directory unique is that it doesn't use a standard submission process. Instead, Google's search technology automatically crawls the web and finds shows that follow its guidelines to list in its directory.
CLICK HERE TO SUBMIT TO GOOGLE PODCASTS
3. Spotify
Spotify is more popular as a music streaming app than a podcast app.
The company has recognised the growing number of its podcast consumers, which is now more than 200 million. So, it's made some changes in this direction. In 2019, it acquired two companies known for podcast production: Gimlet Media and Anchor.
One advantage of this platform is that it's available for both iOS and Android. It also has a stats feature that shows your podcast's performance.
You will need to login using your Spotify login credentials.
CLICK HERE TO SUBMIT TO SPOTIFY
4. TuneIn Radio
Besides iOS and Android devices, some podcast listeners now use smart home devices like Amazon's Alexa and Google Home to access episodes.
TuneIn Radio can be played with these devices. In fact, it's the default podcast player for Amazon's Alexa devices. Although it's technically a radio platform that plays mostly talk radio and news, it has gained 75 million listeners worldwide.
CLICK HERE TO SUBMIT TO TUNEIN RADIO
5. Stitcher
For a long time, Stitcher was the Android alternative to Apple's iTunes. Despite Google's entry into podcast directories, Stitcher continues to have millions of users that use it to find music, podcasts, and internet radio via Apple, Android, PC, and smart and car devices.
It has analytical tools that you can use to track your podcast's performance with listeners.
CLICK HERE TO SUBMIT TO STITCHER
6. Pandora
Pandora recently updated its systems so it can accept more podcasts. It also has a rating system that helps listeners and podcasters know what's good and what's not among the thousands of episodes listed on this directory.
CLICK HERE TO SUBMIT TO PANDORA
7. Listen Notes
Listen Notes is like the Google of podcasts. It has a search engine that listeners can use to find specific topics or podcast show titles. Some of the results in this platform don't appear in an Apple Podcast search, so it's another great alternative to get your show more accessible to listeners.
CLICK HERE TO SUBMIT TO LISTEN NOTES
8. iHeartRadio
iHeartRadio is another internet radio platform that now offers podcast directory assistance that can be accessed via a wide range of devices including smartphones, tablets, cars, TVs, and even gaming consoles.
If your target audience is in the older demographics, then you won't want to miss out on iHeartRadio's avid listeners. Also, it has a weekly Top Podcasts chart and offers regular personalised recommendations to its users so there is a big chance for your podcast to reach your target audience.
CLICK HERE TO SUBMIT TO IHEARTRADIO
9. Alexa via AnyPod
Although there isn't a directory dedicated to Alexa devices yet, and other platforms already include this channel, you might still want to explore listing your show on AnyPod. It's still another way to reach out to Alexa device users.
CLICK HERE TO SUBMIT TO ANYPOD
10. Podcast Addict
Podcast Addict may not be a major directory, but it still has more than 9 million users.
CLICK HERE TO SUBMIT TO PODCAST ADDICT
11. Podchaser
Podchaser is unique because it has a built-in social media feature that allows podcasters and listeners to interact with each other. It creates a profile page for each podcast with information about the creators, episodes, reviews and statistics.
This platform has an extensive database so it allows listeners to filter specific interests to discover new shows.
CLICK HERE TO SUBMIT TO PODCHASER
12. Pocket Casts
Pocket Cast is owned by NPR and other public media entities so it's free. It's considered one of the best platforms for smartphone users. It has powerful filters that guide listeners through its extensive database of shows.
CLICK HERE TO SUBMIT TO POCKET CASTS
13. RadioPublic
RadioPublic has been around for over 15 years. It's the go-to platform for independent podcast creators who want to be part of the platform's curated playlists that showcase content. It also has a lot of features that make it easier for podcasters to list their shows.
CLICK HERE TO SUBMIT TO RADIOPUBLIC
14. Castbox
When it started in 2016, Castbox aimed to simplify the process of searching for new podcasts. Its powerful tools, including an AI search engine, allow listeners to easily look through the over 95 million episodes listed in its database.
CLICK HERE TO SUBMIT TO CASTBOX
15. Juice (formerly IPodder)
Juice (formerly called IPodder) is unique because it only features hand-picked podcasts. It doesn't have an app, yet though, so its users are those who use desktops or in-phone browsers.
16. Deezer
Deezer is just like Spotify because it started as a music streaming app and then expanded into podcasts as well. The majority of its 14 million users are European so this is another way to expand your audience.
CLICK HERE TO SUBMIT TO DEEZER
17. Player FM
Player FM is favoured by indie podcasters and listeners because it features niche topics. It has a cloud-synced app that offers personalised recommendations.
CLICK HERE TO SUBMIT TO PLAYER FM
18. Women in Podcasting
Women in Podcasting focuses on a specific niche: women creators and listeners. If your target audience belongs in this demographic then you have to list your show here.
CLICK HERE TO SUBMIT TO WOMEN IN PODCASTING
19. Learn Out Loud
Learn Out Loud is another podcast directory that focuses on niche topics, specifically educational and informative shows. If your show is geared towards listeners who want to learn about history, science, DIY projects, etc, then this is another platform to explore.
CLICK HERE TO SUBMIT TO LEARN OUT LOUD
These are the directories we know. Did we miss any of your favourites?
Let us know in the comments below.